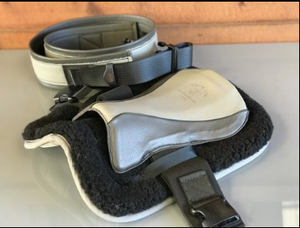 Thera-Tree®- Initial Deposit
Sale price Price $500.00 Regular price


Get a 
Thera-Tree

® Today for $265/month

Thera-Tree® is a service available by subscription from Tad Coffin Performance Saddles for $265.00 per month plus a one-time refundable security deposit of $500. Order yours today by paying for the deposit here. Delivery is usually within 1 week. You will receive a phone call to sign up and pay for the first month of the subscription and shipping when you order is ready.

Features include an adjustable girth which fits most horses and ponies, and a pad made by Toklat. 

Thera-Tree® As A Service keeps you up to date with the latest technology, and
easily pays for itself through a reduction of other costs.

We recommend daily use 1 - 2 times per day for 30-60 minutes. Longer sessions and even overnight use is beneficial. 

Please see our Thera-Tree® User's Guide for how to get the most from your Thera-Tree®.

 If you have any questions contact us.